Table of Contents
Changho Kim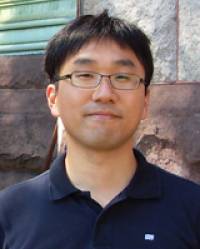 Education
September 2010 – May 2015 (expected): Ph.D. candidate, Applied Mathematics, Brown University

September 2010 – May 2011: M.Sc. in Applied Mathematics, Brown University

September 2003 – August 2007: Ph.D. in Chemistry, Korea Advanced Institute of Science and Technology (KAIST) (Advisor: Eok Kyun Lee)

September 2001 – February 2003: M.Sc. in Chemistry, KAIST (Advisor: Eok Kyun Lee)

March 1997 – August 2001: B.Sc. in Chemistry and in Mathematics, KAIST (double major, summa cum laude)
Research Interests
Brownian motion

Molecular dynamics

Fluid dynamics

Mori-Zwanzig formalism

Generalized Langevin equation

Mesoscopic methods

Stochastic differential equation

Fokker-Planck equation

Monte Carlo simulation

Anomalous diffusion

Fractional dynamics

Non-Gaussian noise

Asymptotic analysis

Uncertainty quantification

Scientific computation
Publications
Submitted Manuscript
C. Kim, O. Borodin, and G. Karniadakis, "Uncertainty quantification for molecular dynamics simulation: Time-dependent diffusion coefficient in simple fluids", submitted to J. Comput. Phys.
Book and Book Chapter (submitted or in preparation)
C. Kim and G. Karniadakis, "Brownian motion: Microscopic point of view", in preparation for the Springer Briefs series Applied Sciences and Technology.

X. Li, Z. Li, X. Bian, M. Deng, C. Kim, Y.-H. Tang, A. Yazdani, and G. Karniadakis, "Dissipative particle dynamics: An overview", submitted to Encyclopedia of Nanotechnology.